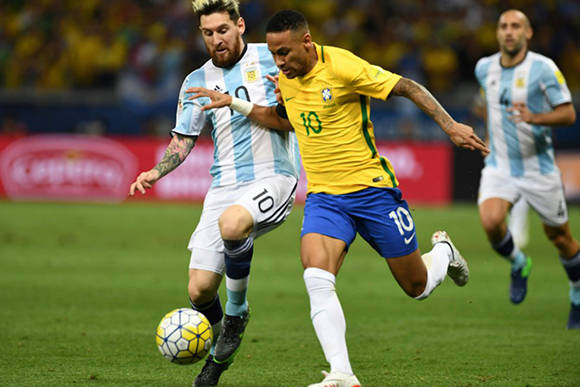 How Neymar could ruin Messi's World Cup dream
Tipped to be one of the stars of the tournament next summer after shining for Brazil in qualifying, Neymar and his team will also play a huge part in Argentina's presence in the World Cup.
Brazil qualified for the World Cup comfortably in March, which is not something that can be said about sixth-placed Argentina, whose hopes of reaching the World Cup automatically could depend on Neymar's Brazil.
The team managed by Tite could face Chile with a weakened side in their final qualifier on Tuesday night. A win would guarantee automatic qualification for Chile, but could also have ramifications for Neymar's former Barcelona teammate Messi and Argentina.
There is no love lost between the two South American giants who have shared a long-lasting enmity. 'The essence of football rivalry', as dubbed by FIFA, which could favour Chile's hopes of making it to Russia.
Argentina will have to beat Ecuador in Quito and hope for an act of kindness from the Brazilians to ensure an automatic place in the World Cup and avoid the play-off fixture with New Zealand.